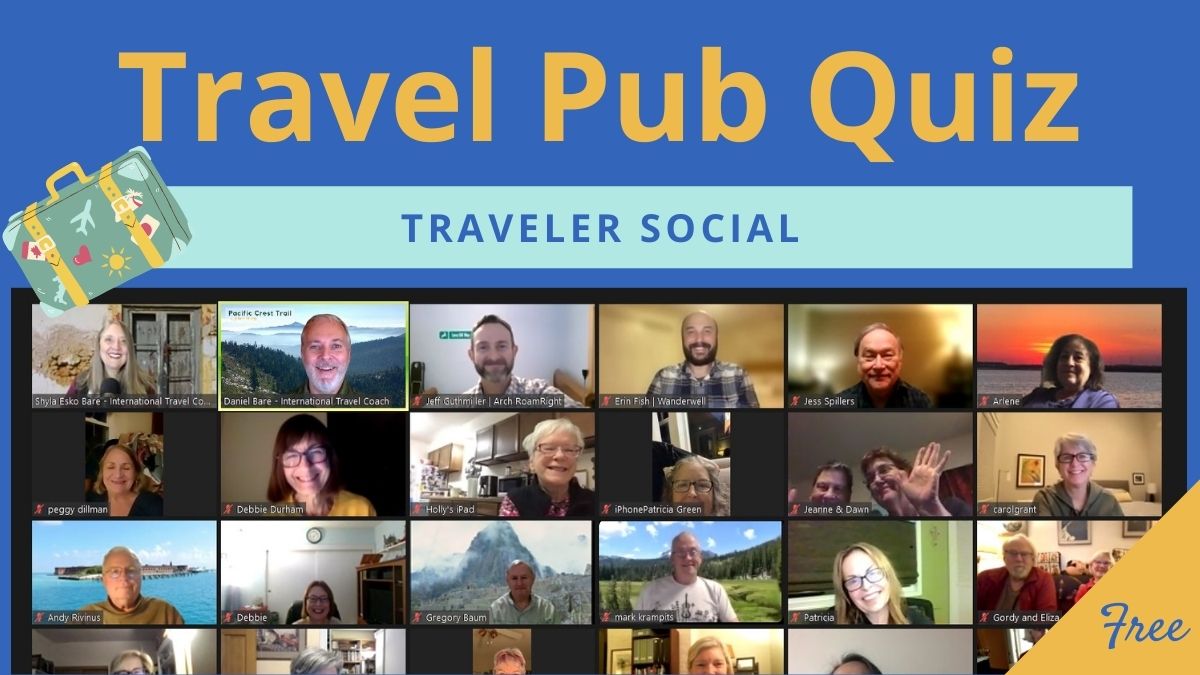 Travel Pub Quiz (Virtual)
Join in the fun of a British Pub Quiz. Ours are virtual with travel themed rounds. No need to be an expert, just willing to meet other travelers and have fun. Teams are created on the night. Three rounds of questions keep everyone guessing. So, put on your thinking cap, pour yourself a pint, and pretend your in a British Pub.
HoHoHo, happy holidays. This month, the Travel Pub Quiz is free to play.
This event is on Zoom. Meeting ID and passcode are sent via event confirmation once you claim a ticket. If after getting a ticket, you discover you cannot attend, please let me know. It helps to have an accurate idea of how many people will be attending.
6:20 – 6:30 Welcome to the virtual Travel Pub Quiz
6:30 – 6:45 Team's assigned and team names created (an important part of a pub quiz!) If you want to play on a team with a specific person, simply PM me before the quiz.
6:45 Travel Pub Quiz Fun
8:20 We have a winner!
There are numerous expenses to holding virtual events. As such, donations for our free events are greatly appreciated. These help cover Zoom subscription, admin costs, and to buy the Quizmaster a drink (yippee, a huge thanks in advance.) You can make a donation at the event page on Wild Spirit Travel or via Venmo (@Shyla-Bare). A couple bucks goes a long way in support of this group.
Photos/Screenshots of the event may be used by Shyla & Dan Bare, Wild Spirit Travel, or Travel Smart Strategies in social media, websites, or print. They may promote future meetups, travel talks/classes, the Global Traveler Pass, or general Wild Spirit Travel/Travel Smart Strategies activities. By attending the event, you give consent to be recorded and in photos.
The Free Tickets Here ticket sales has ended!
The Donation $5 ticket sales has ended!
The Donate $10 ticket sales has ended!
The Donate $20 ticket sales has ended!