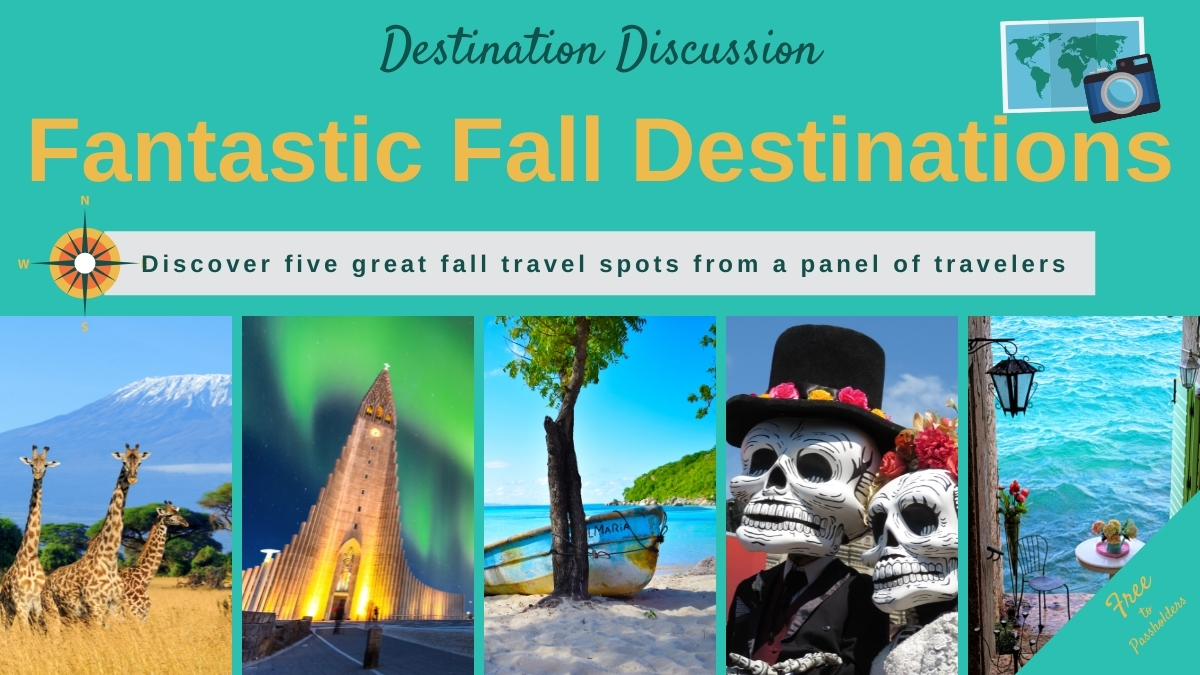 Fantastic Fall Destinations
Wondering where you can travel to this fall… or next? Discover five great fall destinations from a panel of travelers. They will share tips they learned from traveling to each country and fall highlights. One traveler will even be sharing tips from Europe as she will be there during this Destination Discussion. Be prepared to take notes, ask questions, and share your experiences too.
This virtual event is FREE for passholders. To attend, simply claim your free ticket below. Not a passholder? Individual tickets are only $5 per sign-on.
This virtual meeting will take place on Zoom. Please have the Zoom app downloaded and be familiar with how to join a meeting before purchasing a ticket. Zoom details are sent in the event confirmation email.
Interested in the topic but can't make the live discussion? Great news, VIP Passholders have access to the recording. You can watch the replay any time via the Travel Smart Strategies website.
Virtual Destination Discussions are recorded and posted to Travel Smart Strategies. Photos/Recordings taken of this event may be used by Shyla & Dan Bare, Wild Spirit Travel, or Travel Smart Strategies, in social media, websites, or print. They may promote future meetups, travel talks/classes, the Global Traveler Pass, or general Wild Spirit Travel/Travel Smart Strategies activities. By attending the event, you give consent to be in photos/recordings.
Traveler Panel:
Kenya can be visited any time of year. Learn tips for going there this fall, or next, from Timothy Jackson. He is an African safari expert. Having spent around 4 years in Southern and Eastern Africa, Timothy is a wealth of knowledge. Timothy is a partner of Jackson's African Safaris, through which, he organizes custom dream adventures. He also educates travelers on how their choices affect African wildlife. From his home in Canada, Timothy is an active member of this travel meetup group. For information on tours to Kenya, and other African destinations, go to:  https://jacksonsafricansafaris.com/.
Theresa Marsters drove around Iceland in August 2021. She will share useful websites she used to plan her trip, what she discovered in Iceland, and why she is already planning a return trip. Theresa loves to travel and is a member of the Wild Spirit Traveler Facebook group. If you are looking for a destination for this fall, Iceland may be calling.
Kevin and Andi Crockford have visited Costa Rica over 30 times. They love this country and know the secrets to exploring it any time of year, including the fall. Find out which ocean is best to visit when, as well as amazing things to do there. Kevin and Andi are active members of this meetup group and have led many of our members on wonderful tours to Costa Rica. For information on trips go to https://www.kendiworldadventures.com/. If you want to read about other places they have visited, check out No Return Ticket. This travel memoir, by Andi Crockford, is a delightful and insightful read. Available on Amazon at https://www.amazon.com/No-Return-Ticket-Two-Year-Learning/dp/173425601X.
Mexico is a diverse country with sites worth visiting any time of year. The fall is especially magical with Day of the Dead celebrations. Discover tips on traveling to this spicy country from Dan Bare, International Travel Coach with Wild Spirit Travel (www.WildSpiritTravel.com). Dan has visited Mexico numerous times and lived there for a year.
Cyndi Becker will share insights on what it is like to travel in Croatia now, when she calls in from that country. Visiting this popular European destination during shoulder season is especially nice. Cyndi is the owner of All About Your Travels (https://www.allaboutyourtravels.com/). Her passion is finding the best fit for every traveler. She is a certified Croatian travel specialist and can help travelers plan trips to this amazing destination.
Event Facilitator:
Shyla Esko Bare teaches travelers to travel on their terms. She is the founder of Wild Spirit Travel and Travel Smart Strategies video library. Plus, she is the co-author of the Amazon bestseller the Before You Go Abroad Handbook (https://www.amazon.com/Before-You-Abroad-Handbook-International/dp/1537322346).
The Non-Passholder Ticket ($5) ticket sales has ended!
The Global Traveler Passholder Ticket - Included with Pass ticket sales has ended!
The VIP Passholder Ticket - Included with Pass ticket sales has ended!