Calendar of Travel Events​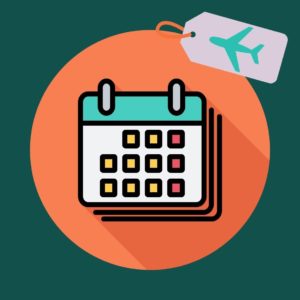 SU

MO

TU

WE

TH

FR

SA
1

2

3

4

5

6

7
8

9

10

11

12

Disney Parks Destination Discussion

6:00 pm - 7:30 pm

Do you consider Disneyland to be "The Happiest Place on Earth"? Are you planning a trip to Anaheim or Orlando to get your Disney fix? Ever wondered what a Disney Park is like in France, Tokyo, Hong Kong, or China? If you have Disney on your mind, pop on your Mickey ears, and join this Destination Discussion. We will be , ...

13

14
15

16

17

18

19

20

21
22

23

24

Travel Tech Q&A

6:30 pm - 7:30 pm

Taking your smartphone or other tech on a trip? Before you do, make sure you know how to do it right, by asking a Travel Tech Specialist your questions. Dan Bare has traveled the world with a smartphone and other tech. He teaches Secrets to Using Technology Abroad and has helped hundreds get connected overseas without , ...

25

26

27

28

Traveler Social – Celebrate Global Travel

10:30 am - 12:00 pm

Come out and meet other travelers as we celebrate global travel. There will be games, prizes, and of course, lots of time to talk to other travelers. Traveler Socials are a fun way to share your travel stories, hear tales from others, and gain inspiration for future trips. This event is great for people who have journe , ...
29

30

31

1

2

3

4
Virtual Zoom Meeting | Requires an internet connection
No event found!