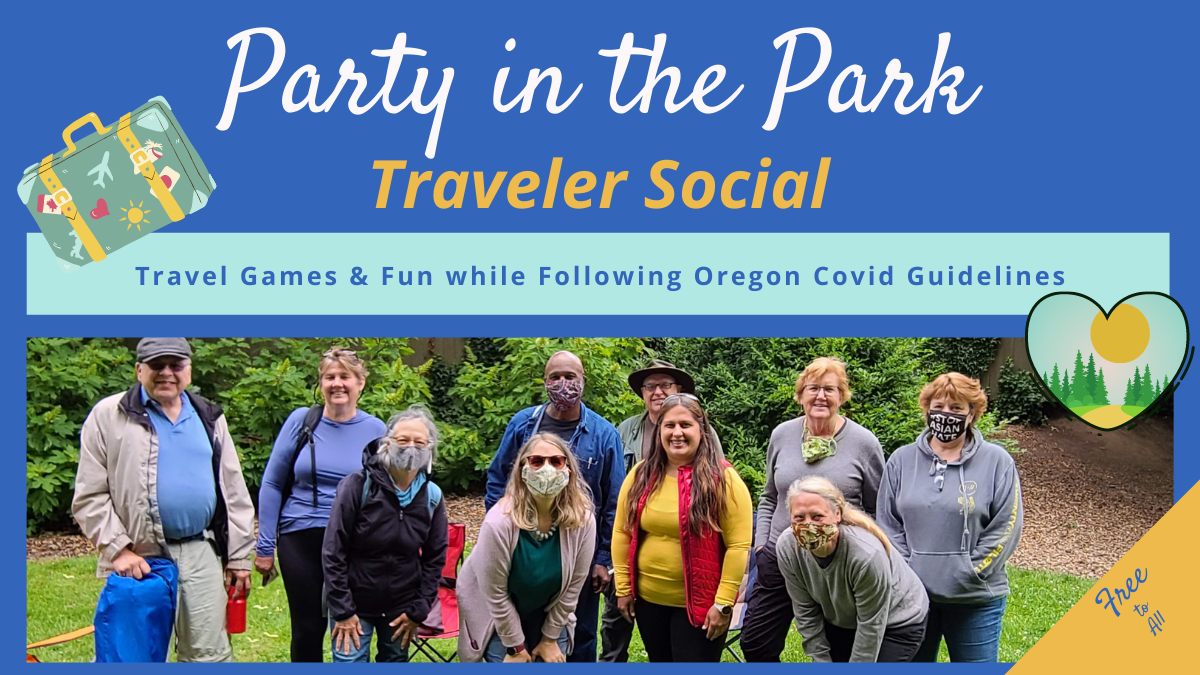 Party in the Park – Portland, OR, Traveler Social
Come out and meet other travelers as we celebrate global travel. There will be games, prizes, and of course, lots of time to talk to other travelers. Traveler Socials are a fun way to share your travel stories, hear tales from others, and gain inspiration for future trips. This event is great for people who have journeyed around the world as well as those dreaming of their first passport stamp.
This will be in a park in SW Portland area. Exact location will only be given to people who RSVP by claiming a ticket. Normally, we charge a nominal fee ($3) for Traveler Socials, but this one is free to all. Bring friends and family who enjoy traveling, to come out and "party in the park" with us. Even though free, please reserve a spot by getting a ticket so we know who is coming. We do need to know how many are attending (so we know how big of space to nab.)
Bring:
Mask
Lawn Chair
Sunhat or Raincoat (depending on weather)
Something to Drink (coffee, tea, juice, water, etc.)
Travel Stories and/or Questions
This fun event will include:
Playing travel bingo
Socializing & connecting with other travelers
Drawings for travel prizes
Plus, an insider sneak peek on our fabulous Global Traveler Pass
Please do NOT come if you have any current Covid symptoms. We cannot guarantee that all attendees will be vaccinated – organizers are. On the day we will be following Oregon State Covid protocols. This may include wearing masks and social distancing. Please be prepared and willing to follow guidelines. If rules change and we cannot meet in person, this event will switch to a virtual park.
By registering for this event, you are acknowledging that an inherent risk of exposure to Covid-19 exists in any public place where people are present. By attending this event, you and any of your guests assume all risks related to exposure to Covid-19 and agree not to hold Wild Spirit Travel, Shyla or Dan Bare, or event volunteers liable for any illness, sickness, hospitalization, or injury that may arise from the event.
Photos taken at the event may be used by Shyla & Dan Bare, or Wild Spirit Travel, in social media, websites, or print. They may promote future meetups, travel talks/classes, the Global Traveler Pass, or general Wild Spirit Travel activities. By attending the event, you give consent to be in photos.
The Non-Passholder Ticket(s) - Free ticket sales has ended!
The Global Traveler Passholder Ticket - Free ticket sales has ended!
The VIP Passholder Ticket - Free ticket sales has ended!