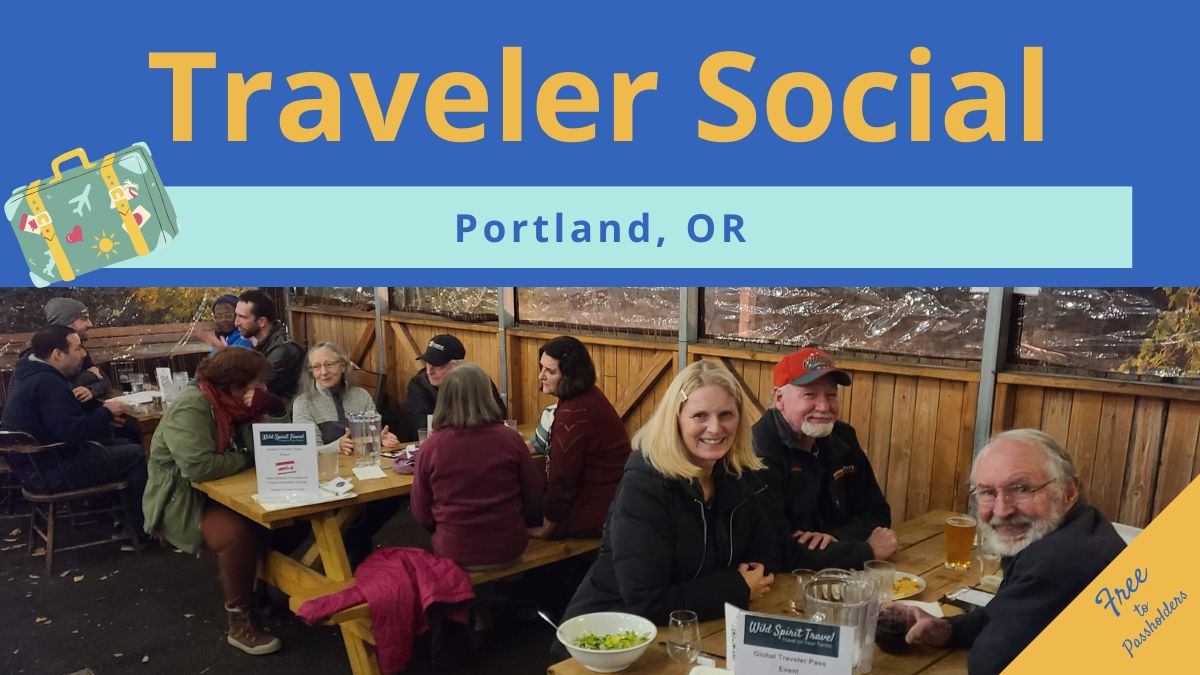 Traveler Social – Portland, OR
Unpack stories from past trips. Collect tips for future journeys. Meet travelers from near and far. Simply enjoy time with this travel-minded community at the October Traveler Social. This casual event is great for anyone with a passport (or dreaming of getting one.)
This month, we will be in the Mississippi area of Portland, OR. We will be in an outdoor covered / heated area. Still bring layers in case its a cool day. The brewer offers a variety of beers and non-alcoholic drinks. They also have a full food menu. Please support the venue by getting something to eat and/or drink. The exact location in the NE Portland area (Mississippi) will be sent to those who RSVP. There is free street parking and a bus stop right out front.
This Traveler Social is FREE for passholders. If you have a VIP Pass or a Global Travel Pass, simply claim your free ticket below. Not a passholder, yet? Individual tickets are only $3 per person.
We do ask that you honor the ticket RSVP system. Refunds will only be made if the entire event is cancelled. Therefore, if you get a ticket, please plan to attend. Having an accurate ticket count helps us to know how big of an area to stake out.
We will follow Multnomah County Covid-19 protocols that may be in place when we meet, currently there are none. The CDC does recommend that people get a Covid-19 vaccine/booster. Please be courteous of other travelers, do not come if you have Covid, flu, or cold symptoms. By registering for this event, you are acknowledging that an inherent risk of exposure to Covid-19 exists in any public place where people are present. By attending this event, you and any of your guests assume all risks related to exposure to Covid-19 and agree not to hold Wild Spirit Travel, Shyla or Dan Bare, or event volunteers liable for any illness, sickness, hospitalization, or injury that may arise from the event.
Travel Social Facilitators: Shyla & Dan Bare are International Travel Coaches with Wild Spirit Travel. They have traveled the world visiting 76 countries and living in Scotland, Australia, Thailand, and Mexico. They enjoy connecting with travelers and have just returned from the national conference of US Servas – an organization that promotes peace through travel, hosting, and cultural exchange. Sounds good? Ask them about Servas at this event. Or read about it in their bestselling travel tip book the Before You Go Abroad Handbook . https://www.amazon.com/Before-You-Abroad-Handbook-International-ebook/dp/B074JK74CJ
Fine Print: Refunds will only be made if the entire event is cancelled.
Photos taken at the event may be used by Shyla & Dan Bare, or Wild Spirit Travel, in social media, websites, or print. They may promote future meetups, travel talks/classes, the Global Traveler Pass, or general Wild Spirit Travel activities.
The Non-Passholder Ticket(s) - $3.00 ticket sales has ended!
The Global Traveler Passholder Ticket - Free ticket sales has ended!
The VIP Passholder Ticket - Free ticket sales has ended!