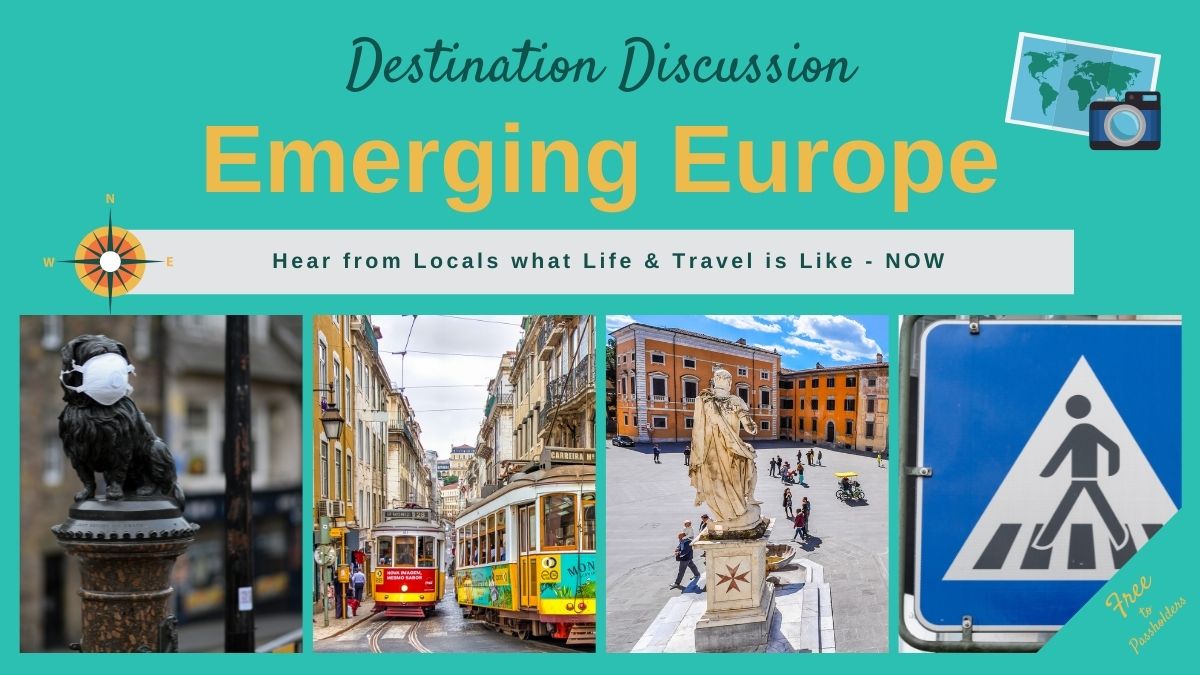 Destination Discussion – Emerging Europe
As Europe emerges from pandemic restrictions, there are lots of questions about what travel is like. Hear from a panel of Europeans and Expats about life and travel in their country. Must attend for people planning a trip, or just curious about life in Europe. Take notes, ask questions, and get the insider scoop, on what things are like – NOW.
Ticket Price for this event is $6.  If you purchased a Global Traveler Pass, this event is FREE! Details on the pass at: https://www.wildspirittravel.com/. If you are a Passholder, simply PM me and I will add you to the list. Can't make the live discussion? VIP Passholders will have access to the recording to watch at any time.
Zoom details and passcode will be sent out upon RSVP. Please make sure you have the Zoom app downloaded and know how it works before signing up.
July Travel Panel:
Sofie Zucca, Italy
Karen Wilson, Scotland
Sharie Korter & David Bantz, Portugal
Meetup Facilitator
Shyla Esko Bare is the organizer for this Meetup group. She started it after returning to Portland from 12-years abroad. In that time, she lived in four countries (Scotland, Australia, Thailand, and Mexico) and traveled to numerous more. Shyla has been to 75 countries, and counting. She shares travel tips through her business, Wild Spirit Travel (www.WildSpiritTravel.com), at how-to travel classes online and at Portland area colleges, plus through an Amazon bestseller the Before You Go Abroad Handbook (https://www.amazon.com/Before-You-Abroad-Handbook-International/dp/1537322346).
Photos/Recordings taken of this event may be used by Shyla & Dan Bare, or Wild Spirit Travel, in social media, websites, or print. They may promote future meetups, travel talks/classes, the Global Traveler Pass, or general Wild Spirit Travel activities. By attending the event, you give consent to be in photos/recordings.