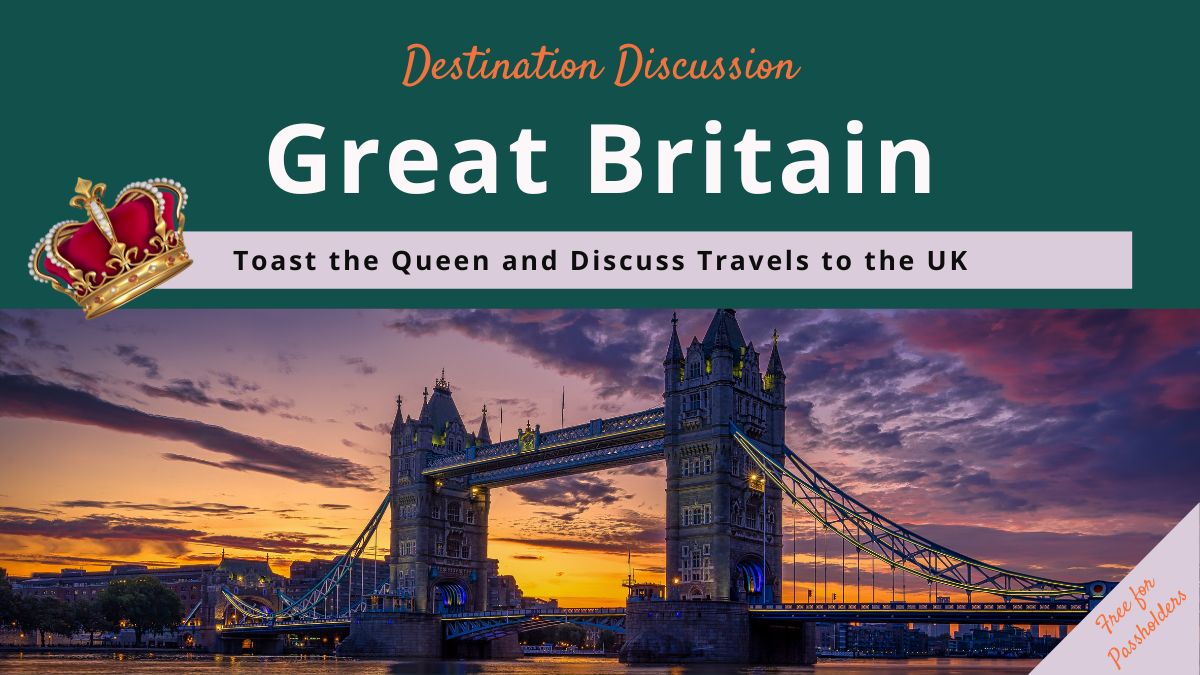 Destination Discussion – Great Britain
This month, we will be gathering to not just discuss travels to the United Kingdom, but to also toast Queen Elizabeth. As Britain's longest reigning Monarch she was known the world over. Her passing has left many of us saddened; so, we shall gather at a quintessential British Pub in NE Portland to honor her, the new King, and all things English. Attendees can share stories of time spent in the UK, give/get tips on vacationing there, and talk about the Queens' legacy. Of course, the discussion will not be limited to just Great Britain. This group tends to travel around the world in conversation. As such, all globally minded or travel curious people welcome.
This Traveler Social is FREE for passholders. To attend, simply claim your free ticket below. Not a passholder, yet? Individual tickets are only $4 per person.
This in-person gathering will be at a British Pub in NE Portland (Hollywood District). The exact location will be sent out in the confirmation email. There is free street parking, as well as accessibility from several bus lines and the Max. We plan to grab a few tables in the beer garden, but that will depend on weather. Please support the venue by purchasing food and/or drink.
Travel Social Facilitators: Shyla & Dan Bare lived five years in Edinburgh, Scotland. They have traveled extensively throughout Great Britain, Europe, and the World. Shyla & Dan are International Travel Coaches with Wild Spirit Travel. They organize travel events to share travel tips and connect with other like-minded travelers. They are the co-authors of the bestselling Before You Go Abroad Handbook  and teach Great Britain for Travelers at colleges including PCC and Clark.
We will follow Oregon Covid-19 protocols that may be in place when we meet, currently there are none. Multnomah County Public Health does recommend voluntary indoor making and that people get a Covid-19 vaccine/booster. Please be courteous of other travelers, do not come if you have Covid, flu, or cold symptoms. By registering for this event, you are acknowledging that an inherent risk of exposure to Covid-19 exists in any public place where people are present. By attending this event, you and any of your guests assume all risks related to exposure to Covid-19 and agree not to hold Wild Spirit Travel, Shyla or Dan Bare, or event volunteers liable for any illness, sickness, hospitalization, or injury that may arise from the event.
Fine Print: Refunds will only be made if the entire event is cancelled.
Photos taken at the event may be used by Shyla & Dan Bare, or Wild Spirit Travel, in social media, websites, or print. They may promote future meetups, travel talks/classes, the Global Traveler Pass, or general Wild Spirit Travel activities. By attending the event, you give consent to be in photos.
The Non-Passholder Ticket(s) - $4 ticket sales has ended!
The Global Traveler Passholder Ticket - Included with Pass ticket sales has ended!
The VIP Passholder Ticket - Included with VIP Pass ticket sales has ended!