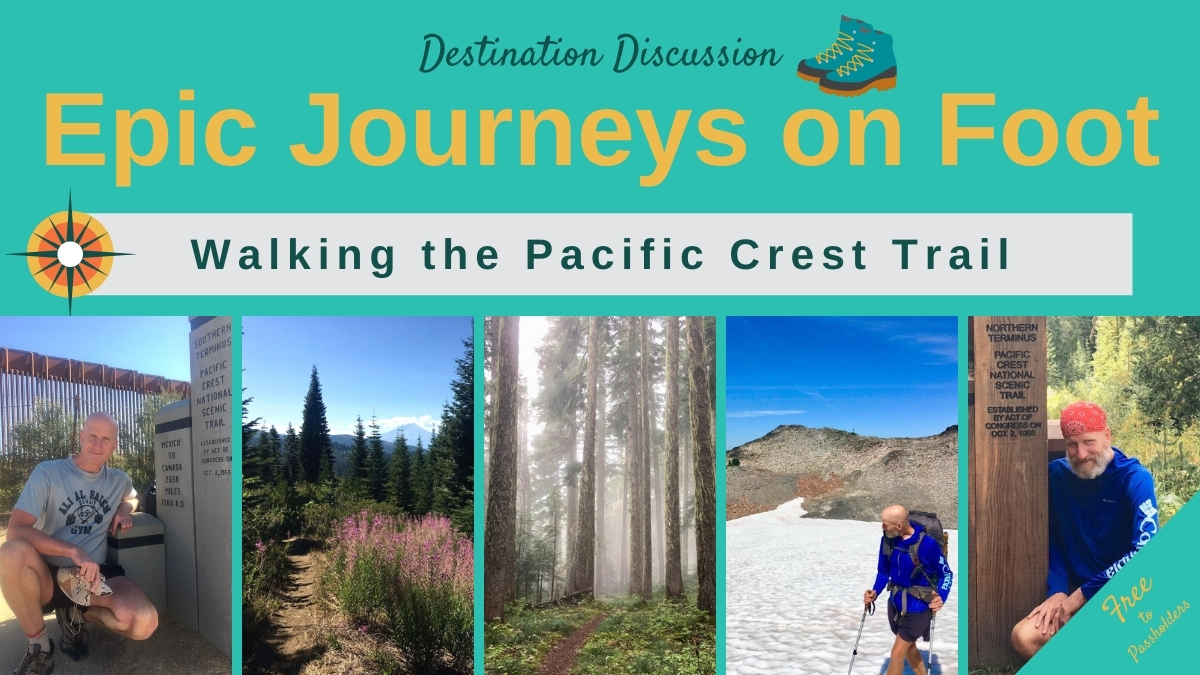 Epic Journeys on Foot – Walking the Pacific Crest Trail
Walking from Mexico to Canada may not be everyone's dream vacation. Yet every year people set off on the Pacific Crest Trail to do this epic journey. Find out what it is like to traverse these 2,650 miles on foot, from traveler Chris Grieg (who was known on the trail as Long Haul.) Starting at the Mexican border on May 4th, Chris reached Canada September 9, 2021. He will share his highs and lows (literally and figuratively). Plus, he'll answer questions from those wanting to do this phenomenal hike, as well as questions from those wondering who the heck would ever want to do this hike.
This is not Chris Grieg's first epic journey on foot. He has also walked the Camino de Santiago in Spain and the Appalachian Trail in Eastern USA. Chris is an experienced world traveler having visited over 140 countries.  Supporting Chris on the trail, was his wife and "Trail Bunny," Deah Hester. Deah is a travel blogger at Palm Tree Musings. She has written several blogs about Chris walking the Pacific Crest Trail. To read these go to: https://palmtreemusings.com/
This virtual event is FREE for passholders. To attend, simply claim your free ticket below. Not a passholder? Individual tickets are only $5 per sign-on.
This virtual meeting will take place on Zoom. Please have the Zoom app downloaded and be familiar with how to join a meeting before purchasing a ticket. Zoom details are sent in the event confirmation email.
Interested in the topic but can't make the live discussion? Great news, VIP Passholders have access to the recording. You can watch the replay any time via the Travel Smart Strategies website.
Virtual Destination Discussions are recorded and posted to Travel Smart Strategies. Photos/Recordings taken of this event may be used by Shyla & Dan Bare, Wild Spirit Travel, or Travel Smart Strategies, in social media, websites, or print. They may promote future meetups, travel talks/classes, the Global Traveler Pass, or general Wild Spirit Travel/Travel Smart Strategies activities. Photos may also be used by Chris Grieg, Deah Hester, or Palm Tree Musings. By attending the event, you give consent to be in photos/recordings.
Event Facilitatiors:
Shyla Esko Bare & Dan Bare are International Travel Coaches with Wild Spirit Travel. They have traveled around the world to more than 75 countries. They are the authors of the Amazon bestseller the Before You Go Abroad Handbook
The Non-Passholder Ticket ($5) ticket sales has ended!
The Global Traveler Passholder Ticket - Included with Pass ticket sales has ended!
The VIP Passholder Ticket - Included with Membership ticket sales has ended!