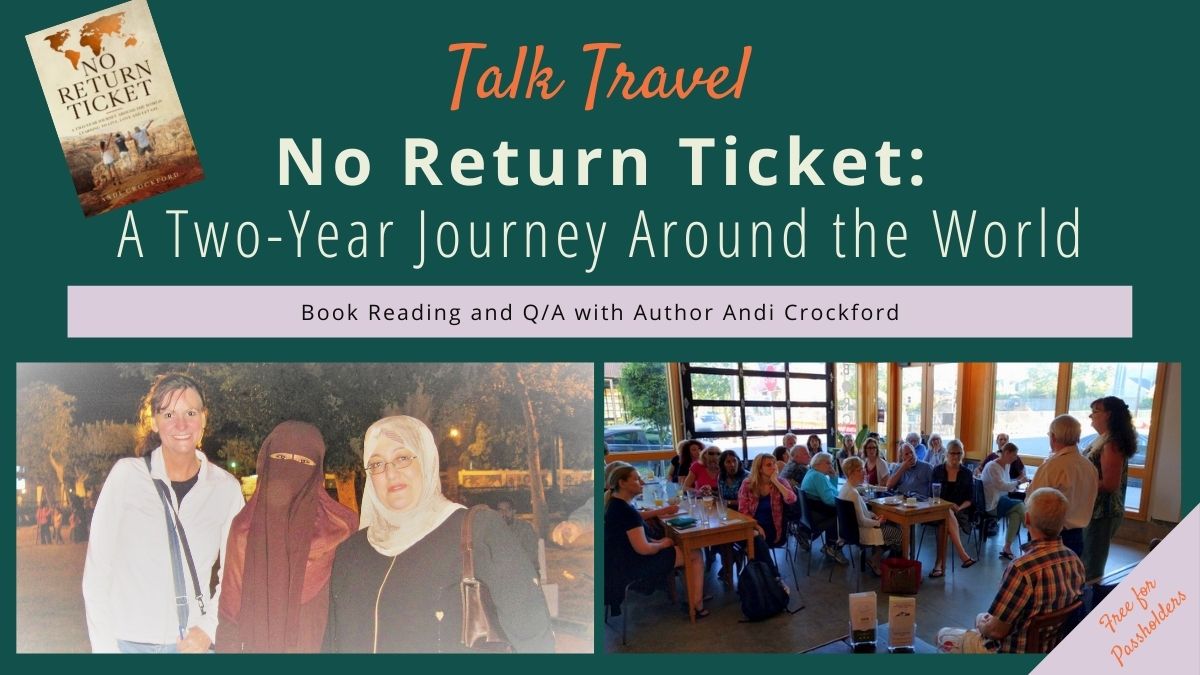 Talk Travel – No Return Ticket – Author Andi Crockford
Ever dream of buying a one-way ticket and just traveling? Andi Crockford did more than dream, she did it. This month, hear Andi regale us with tales from her book No Return Ticket. It is the story of "a two-year journey around the world: learning to live, love, and let go."
According to Andi, "Mine is not a story of a "vacation." It is not a narrative of beaches and pools and drinks with paper umbrellas. It is a chronicle of love, of indescribable joy, wet-my-pants laughter, and unspeakable tragedy. This is my account of leaving behind my comfortable life and—along with my husband and daughter—experiencing the world."
No Return Ticket is a captivating read that made me feel like I was traveling with Andi and her family. Andi paints a wonderfully realistic picture of the world and what it is like to travel long-term. At this meetup, hear her share a couple stories from the book, as well as her motivation for traveling around the world. You can also ask questions about her travels and writing process.
Autographed copies of No Return Ticket will be available at the event. All attendees will also receive a BONUS chapter from Andi.
This talk travel is FREE for Global Traveler Passholders (info at: www.wildspirittravel.com). If you are a Passholder, simply PM me and I will add you to the list.
10:15 – 10:30 Arrive and Talk with other Travelers
10:30 – 10:45 Introduction
10:45 – 11:55 Book Reading and Author Q&A
11:55 – 12:00 Group Announcements
12:00 – 12:30 Mingle and get an autographed copy of No Return Ticket
The Speaker:
Andi Crockford is a wife, mother of four, and grandmother of eight. The lifelong travel addict returned from her two-year around-the-world journey and wanted to share travel opportunities with others. Andi and her husband, Kevin, started Kendi World Adventures (KWA). KWA takes small groups to Costa Rica and India. Their next great adventure is to travel the Pan American highway from Prudhoe Bay, Alaska to Ushuia, Argentina in a short bus she and Kevin renovated. To book a tour and travel with Andi, go to www.kendiworldadventures.com
The Book:
No Return Ticket is available in paperback or eBook at Amazon https://www.amazon.com/No-Return-Ticket-Two-Year-Learning-ebook/dp/B085JQLMHH/ . If you enjoy reading this book, please remember one of the best ways to help Authors is to leave a 5-star review on Amazon.
The Facilitator:
Shyla Esko Bare is the organizer for this Meetup group. She started it after returning to Portland from 12-years abroad. In that time, she lived in four countries (Scotland, Australia, Thailand, and Mexico) and traveled to numerous more. Shyla has been to 75 countries, and counting. She shares travel tips through her business, Wild Spirit Travel (www.WildSpiritTravel.com), at how-to travel classes online and at Portland area colleges, plus through an Amazon bestseller the Before You Go Abroad Handbook (https://www.amazon.com/Before-You-Abroad-Handbook-International/dp/1537322346).
Photos taken of the event may be used by Shyla & Dan Bare, Wild Spirit Travel, or Andi Crockford in social media, websites, or print. They may promote future meetups, travel talks/classes, general Wild Spirit Travel activities, the Global Traveler Pass, or No Return Ticket. By attending the event, you give consent to be in photos.