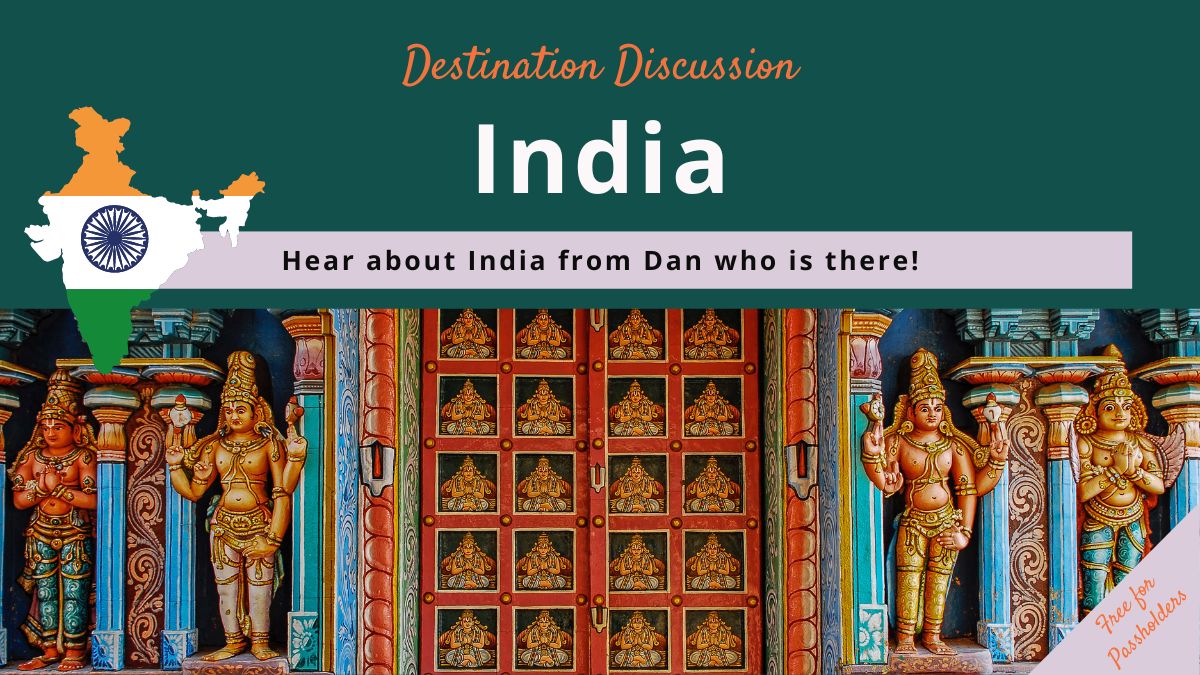 Destination Discussion – India
Few countries are as exotic or as challenging as India. If you want to know what it is like to travel there, join this virtual Destination Discussion. International Travel Coach, Dan Bare, will be calling in from India. He will share his tips for navigating this country and enjoying all India has to offer.
This event is free for all participants. Simply grab a ticket to get the Zoom details.
Speaker: Dan Bare is an International Travel Coach and Travel Tech Specialist with Wild Spirit Travel. He has traveled to 76 countries around the world. On his last trip to India, he spent two months exploring this intense country. His journey that time was focused on the north-west and central areas. This time he is spending a month primarily in the Pune area and southern coast. Dan enjoys sharing travel tips with others, so come with questions about India.
There is a small chance that the day/time will change. Dan is currently traveling in India where internet access can be unpredictable. Please understand we will do what we can to have the event as posted, but flexibility is key for India, and this virtual event.
Photos/Screenshots of the event may be used by Shyla & Dan Bare, Wild Spirit Travel, or Travel Smart Strategies in social media, websites, or print. They may promote future meetups, travel talks/classes, the Global Traveler Pass, or general Wild Spirit Travel/Travel Smart Strategies activities. By attending the event, you give consent to be recorded and in photos.
The Reservation Ticket (Free) ticket sales has ended!