Need to fill the stocking of a traveler? Here are four small gifts great for people that travel.
Adjustable Headlamp with Red-Light Feature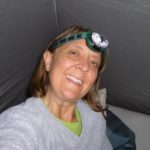 If you have ever had to use a squat toilet at night, you will understand how important traveling with a headlamp is. Even in ensuite hotel rooms, the red-light feature is nice to not impact the night vision of roommates. Headlamps are also small enough to fit in pretty much any Christmas stocking.
Recommended brands: Energizer makes several options and is what I have traveled the world with. Available at numerous stores or via online shopping platforms. Their latest model is rechargeable via a USB cable. Compare Energizer models and find availability at: www.energizer.com/lighting/hands-free-lighting .
Shampoo & Conditioner Bars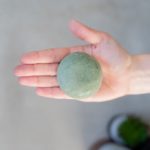 Many travelers are tired of liquid rules and restrictions when flying, so stuff the stocking of the traveler you care about with dry shampoo. According to Moon Valley Organics, their shampoo bar yields twice as many washes as liquid shampoo. Plus, it reduces plastic waste. And for a traveler it is great as no need to take only 3oz and keep it in a baggie through airport security. Hair may need to adjust to this new product so be sure to let the recipient now they can find out information on "using our herbal shampoo bar" on Moon Valley Organics website www.moonvalleyorganics.com . You can purchase their products on the website, at the Seattle Pike Place Market, or at specialty stores across the U.S.
Lush, a British cosmetics retailer with nearly 1000 stores around the world, has both dry shampoos and conditioners. According to the Lush website, one of their shampoo bars will last for up to 80 washes (the equivalent of three bottles of liquid shampoo.) And yet, it is small enough to be a perfect stocking stuffer. Their pressed conditioners come in 3 scents and are described as being travel-friendly. For more information go to a Lush store near you or their website: https://www.lushusa.com/home.
Security Neck Wallet or Moneybelt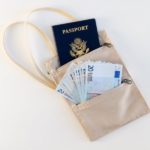 If Santa Claus is worried about the safety of the traveler, then a security neck wallet or moneybelt can be tucked into a Christmas stocking. These must have travel items are worn under clothes to hide various items such as passports and money. They are available at many travel stores across the country. Lightweight and comfortable options are the silk ones available from the Rick Steves' Store (https://store.ricksteves.com/shop/travel-accessories.)
Global Traveler Pass or VIP Pass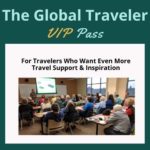 If you know a traveler who would benefit from meeting and learning from others, then get them a Wild Spirit Travel Global Traveler Pass. A pass gets the recipient a year of free entry to numerous events including: traveler socials, talk travel presentations, and destination discussions. Many of these are online so the traveler can use this stocking stuffer no matter where they live.
It the traveler needs extra support then a VIP Pass unlocks even more. This pass includes monthly Q&A calls with travel experts, access to a travel tip video library, and exclusive links to all recorded events. Complete details on both passes at: www.wildspirittravel.com. And don't worry, Santa won't tell if you buy this one for yourself.