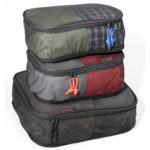 I have been teaching how-to pack classes for five years. In it I share hundreds of tips. Some travelers take some of my advice and others do not. I get it. There are lots of different ways to pack and no one should take the exact same things as I do. My class, and packing list, are simply a guide.
But, if there is one packing hack everyone could benefit from, it is organize your stuff. A disheveled pack is tough to travel with. I know, I have traveled with everything dumped in my bag. Clothes get wrinkled. Chargers get lost. Time is wasted pawing through everything time and time again.
The answer is simple. Use packing cubes, compression bags, or zip-lock bags to organize your stuff. For me, I use a combination of packing cubes and zip-lock bags. I like the zip-locks as I can write on them what should be inside. This makes packing up easy. If the bag says three T-shirts, I don't leave unless I have three T-shirts in it.
But zip-lock bags can be slippery. So I load them into packing cubes. These keep my entire pack organized. I use one for tops, one for bottoms, one for undergarments, one athletic wear, and one for electronics.
The two brands of packing cubes I recommend are Eagle Creek and Rick Steves. Both are light weight and durable. If you only do one packing hack, do this — get packing cubes.